The Huffington Post  | By David Lohr
Authorities in southwest Missouri say Chelsie Berry and Jared Prier posed for a selfie with the body of a friend who died from a drug overdose.
Berry, 24 and Prier, 26, are charged with voluntary manslaughter and abandonment of a corpse in the death of 30-year-old Dennis "Nathan" Meyer.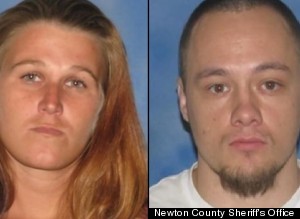 Chelsie Berry (left) and Jared Prier.
The pair was taken into police custody on Wednesday, after a tipster alerted police to Facebook photos that allegedly show Berry and Prier posing with Meyer's body, police said.
"He appeared certainly to be deceased," Newton County Sheriff Ken Copeland told News Talk KZRG of at least one of the selfies.
According to a probable-cause affidavit obtained by The Smoking Gun, Berry told police she was hanging out with Meyer on the night of August 21, when he injected himself with the painkiller Dilaudid, a narcotic pain reliever.
"Chelsie stated that Nathan shot the Dilaudid up into his vein and started acting 'crazy' by pulling his penis out and saying strange things," the arrest affidavit reads.
Berry told police Meyer's bizarre behavior made her nervous, so she called Prier, who met up with them a short time later. Berry, according to the affidavit, said she hung out in the parking lot of a McDonald's restaurant, while Myer was "passed out" in the vehicle they were using.
The trio later drove to a convenience store, at which time they allegedly checked on Meyer and discovered he was not breathing, police said.
Berry allegedly told police she was afraid to call an ambulance for Meyer because she and Prier were "high on meth and Xanax."
Instead of getting help, the pair posed for a "selfie" with Meyer before moving his body from the front seat to the back seat, "because they did not want to look at him any longer and also the fact that he began to smell bad," the affidavit states.
Berry allegedly told police they drove around "looking for a place to dump the body," before eventually settling on the rural Newton County driveway, where it was later found.
The arrest affidavit states the coroner determined Meyer's "breathing would have been faint" in the hours leading up to his death and that it "would have taken a while" for him to die.
According to Missourinet.com, authorities are still trying to determine Meyer's official cause of death, but drug overdose has been referenced as a possible cause.
Berry and Prier are both being held in the Newton County Jail on $50,000 bond.